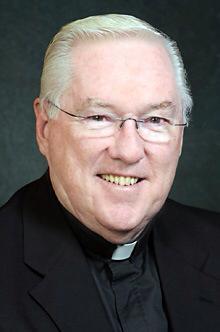 Reverend Jerrold Francis Kennedy, R'1960





Born: July 21, 1940

Ordained: May 26, 1966

Died: January 2, 2013






Reverend Jerrold Francis Kennedy Passed away unexpectedly on January 2, 2013. A retired priest of the Catholic Diocese of Oakland. Father Kennedy was ordained on May 26, 1966, and ministered faithfully as a priest and pastor in a number of parishes in both Alameda and Contra Costa Counties, as well as serving in the Bishop's Office and on the faculty of Saint Patrick Seminary in Menlo Park.

He was the second of ten children born to Dr. William and Mary O'Connell Kennedy, and was born on July 21, 1940 in Oakland, California. Dear brother to William (MaryAnn), Kevin (Mary Anne), Mary Frances, John, Margaret, Brian, Kathleen, Norene Broyles (Kelsey), and the late Rita Wilson (Michael). Nephew of Jean O'Connell. Loving uncle to Karen Ellis, Janet Kennedy Page, Denis Kennedy, Laura Kelly, Nora Calvin, Caroline Dociu, Jennifer Mele, and Timothy Wilson. Great-Uncle of eleven.

Visitation will be held on Wednesday, January 9, 2013 after 6:00PM, with a Prayer Vigil also on Wednesday at 7:30PM, and a Mass of Christian Burial on Thursday, January 10, 2013, at 10:30AM, all at Saint Philip Neri Church, 3108 Van Buren Street, Alameda.



Published in San Francisco Chronicle from January 6 to January 8, 2013


And secondly, from.....










Father Jerry Kennedy, who over 46 years of priesthood led a distinguished life in service to the church, passed away this week as a result of a major heart attack. He was 72 years old. He retired in 2010 after serving as Parochial Vicar at Catholic Community of Pleasanton.

We will miss him greatly. Father Kennedy was always a welcome face at CCOP. He visited frequently after his retirement, and assisted as recently as our Advent Communal Penance Service.

Father Kennedy provided leadership in parishes around the diocese for many years. He served as pastor of Santa Maria in Orinda (1979 - 1983), Sacred Heart in Oakland (1983 - 1985), St. Philip Neri in Alameda (1990 - 1998) and St. Jerome in El Cerrito (2004 - 2008). He also served as parochial administrator at St. Leander in San Leandro in 2004. Over the years he also served in multiple roles with the Diocese of Oakland, including Vice Chancellor and Vocations Director.

Services will be held at St. Philip Neri Church, 3101 Van Buren St., Alameda, CA 94501. A vigil will be held Wednesday, January 9, at 7:30 p.m., and the funeral mass on Thursday, January 10, at 10:30 a. m.

Please join us in offering our prayers for Father Jerry's family.