John Joseph Conneely (1943-2009), R'63

It is with great regret and sadness that we report John "Jack" Joseph Conneely passed away unexpectedly at the age of 66 at his home in Lake Tahoe.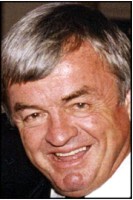 It has come to pass that his name is captured in the "Irish green pages" he read daily. Jack was conceived in Galway, Ireland and born in San Francisco on March 19th, 1943. He was the second of five children born to John and Catherine Conneely who preceded him in death. He was raised in the Sunset and spent his early days playing ball in the streets near his house or Sunset Playground, serving as an altar boy at St Anne's or watching the 49ers at Kezar where his father Conn was known to look the other way when Sunset kids walked through the turnstiles.

He matriculated at St Anne's, St Joseph Seminary, St Ignatius, and USF. As a law student he worked on the Golden Gate Bridge setting traffic cones and as a counselor at the Youth Guidance Center. He practiced law for over 35 years as a member of the California Bar Association. During that time he built a reputation as a shrewd litigator as a partner at Brobeck, Phleger, and Harrison for 20 years and later working for himself.

He left San Francisco for San Mateo in 1974 with his first wife Janet where they raised their four boys: John, Matt, Bryan, and Todd. Jack kept his primary residence in San Mateo until his death. He cherished his four boys and seven grandchildren and his proudest moments were watching them compete on the basketball court, track, baseball diamond, football field, and rugby pitch. He was a strong supporter of Serra High School athletics where he was a regular on the s idelines for many years. Jack contributed to all of the communities to which he was a member. He coached boys basketball, ushered, and MC'd the sports awards night at St Catherine's for many years.

He served as president of the St Ignatius Alumni committee. He chaired the Olympic Club Legal Committee where he was a member for over 30 years.

Jack had many pursuits over his 66 years. He enjoyed water skiing and cruising Lake Tahoe in his boat where he kept a home for 30 years. He was an avid runner his entire life. He relished playing host for functions of all types. He was a lover of literature, language, and music.

Jack, or "Cactus" as he was affectionately called by his children and their friends, will be remembered for his great wit and humor, sharp mind, and generosity.

A first generation Irish-American he fulfilled the dream of his parents through his achievements. Jack is survived by his sons John (Maria), Matt (Jodi), Bryan (Berbel), Todd (Sarah); his seven grandchildren: Jordan, Brendan, Anabelle, Alyssa, Makena, Luke, and Connor; his sister Barbara Leedom; and his brothers Dudley, Charlie, and Thomas.

The Rosary will take place Tuesday at 7PM at St Catherine's of Siena Church at 1310 Bayswater Ave. in Burlingame. A Funeral Mass will be celebrated on Wednesday at 10AM at the same venue. Committal at Holy Cross Cemetery in Colma.